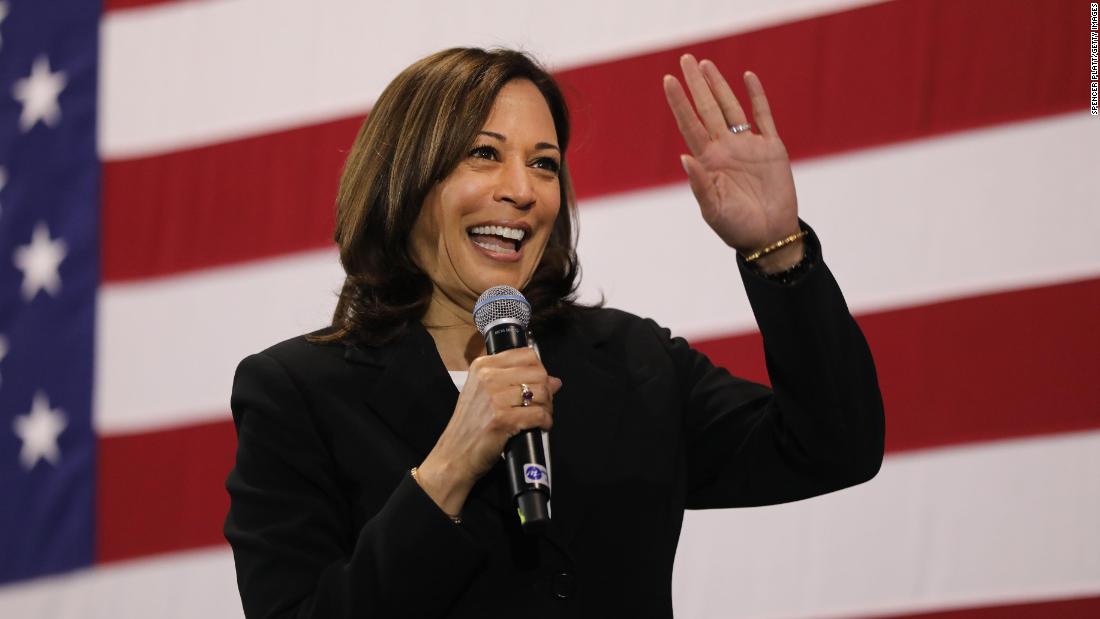 New York (CNN Business)A version of this article first appeared in the "Reliable Sources" newsletter. You can sign up for free right here.
ABC's "Good Morning America" and "CBS This Morning" have landed half a dozen of these interviews in the past few months. ABC will do it again on Thursday when NYC mayor Bill de Blasio appears on the morning show in the 8 a.m. hour.
When de Blasio announces his 2020 bid, he will bring "the total number of candidates to 23 with nearly nine months before the first votes are cast,"
CNN's story notes.
The coveted "first TV interview"
Some, like Joe Biden and Elizabeth Warren, have gravitated toward "The View" or Stephen Colbert's couch or Rachel Maddow's studio for their first interview. But others have opted for morning TV rollouts. Kamala Harris entered the race on MLK Day on "GMA." Bernie Sanders launched his campaign by giving interviews to Vermont Public Radio and "CBS This Morning." Seth Moulton posted a video and then
announced
on "GMA" with George Stephanopoulos. John Hickenlooper did the same thing. And Michael Bennet announced on CBS in a sit-down with John Dickerson.
"GMA" has had another A.M. exclusives. And CNN's "New Day" and MSNBC's "Morning Joe" have had numerous candidate interviews.
Reminder…
This year's first Dem primary debate, on NBC, and the second debate, on CNN, are capped at 20 candidates — up to 10 each for two nights.
FiveThirtyEight
has details about the criteria
here…
A "toxic relationship with the press corps"
Getting back to Thursday's impending news… On the plus side, de Blasio is a product of the New York media market. Many key national and local reporters know him very well.
Wait. Did I say on the PLUS side? Maybe it's a plus for the press corps, but it's a MINUS for de Blasio, who is facing a critical-bordering-on-hostile media. "I think Bill de Blasio has a toxic relationship with the press corps that covers him. It goes both ways," former aide Rebecca Katz, who is not involved in his new campaign,
told CNN
. "And that's going to make it very hard for this run because wherever he will be, whatever small town in Iowa or New Hampshire, he will have NY1 and the New York Post front and center. Whether he likes it or not."
— And on a personal note, my wife is getting up even earlier than usual: Jamie's morning show on NY1 will start at 5 a.m. instead of 6 on Thursday, owing to the fact that it's so rare for a sitting NYC mayor to run for prez…
Warren is rejecting Fox News, but most of her rivals aren't
Elizabeth Warren made a bold statement by publicly rejecting an invitation to participate in a town hall on Fox News. The anti-Fox stance impressed Warren's fans and progressives online, but so far there hasn't been a rush to join her. Most of the 20-plus other candidates vying for the Democratic nomination for president are either welcoming the chance to talk on Fox or are keeping their misgivings to themselves. The only exception is Kamala Harris, who has — for now —
ruled out a town hall
with the network, according to two campaign aides. "They've reached out but we haven't entertained it," a campaign spokesperson told me.
Fox, for its part, hasn't responded to Warren's Tuesday announcement. But a couple of her rivals have. "If you're not using your town hall, I will," John Delaney tweeted at Warren. "Democratic candidates have to campaign everywhere and talk to voters." John Hickenlooper said he agreed with Warren "that our media is too polarized, but I don't believe we should stop talking to people who don't agree with us." He went on Fox Biz on Wednesday night. And Steve Bullock is booked on Dana Perino's show on Thursday.
Warren's argument is about Fox's business model
I think this point got lost a little bit on Tuesday: Warren was talking about Fox's ad $$$. She was implicitly criticizing her rivals who agree to town halls on Fox when she said "a Democratic town hall gives the Fox News sales team a way to tell potential sponsors it's safe to buy ads on Fox — no harm to their brand or reputation (spoiler: It's not)." Already, two Democratic hopefuls have participated in televised Fox town halls: Bernie Sanders in April and Amy Klobuchar earlier this month. Pete Buttigieg is up next on Sunday, and Kirsten Gillibrand has one scheduled for June…
What about Swalwell?
Eric Swalwell
told Darcy
that he would like to do a town hall with Fox, but said the network turned him down last week. He said the network did not provide criteria it was using to determine which candidates it offered town halls to, adding, "I can only conclude that they are afraid to give me the opportunity." A Fox spokeswoman disputed this and said the network left the door open for a future opportunity. Swalwell hasn't been on a CNN town hall yet, either…
→ CJR's Jon Allsop wrote in his morning
newsletter
: "The question 'should Democrats appear on Fox?' probably doesn't have a one-size-fits-all answer. If Democrats do choose to appear, we should encourage them to ram home an essential point: that Fox has an abnormal, corrosive relationship to democracy."
THURSDAY PLANNER
— TV upfronts in NYC: The CW's presentation is in the morning…
— Hatice Cengiz, fiancee of Jamal Khashoggi, will testify at a 2 p.m. House Foreign Affairs Committee hearing on the dangers of reporting on human rights…
— Chelsea Manning is due back before a federal grand jury in Virginia…
— "The Big Bang Theory" series finale premieres at 8 p.m. on CBS…
Condé sells Brides mag
This sale is part of Condé Nast's ongoing "cost-cutting campaign," the NYT's Tiffany Hsu
writes
. IAC's Dotdash is the buyer. "Dotdash plans to scrap the 85-year-old print magazine and redesign Brides.com…"
FOR THE RECORD
— This just in: "Gannett Co. is poised to retain control of its entire board in a proxy fight with a hedge-fund-backed rival that made a hostile bid for the USA Today owner," Cara Lombardo reports… (
WSJ
)
— Another round of layoffs "are taking place across both Walt Disney Studios and 20th Century Fox…" (
Variety
)
— This "deep linguistic analysis" is very interesting: "U.S. journalism really has become more subjective and personal — at least some of it…" (
NiemanLab
)
Original Article : HERE ; This post was curated & posted using : RealSpecific
*****************************************************
*****************************************************
This post was curated & Posted using : RealSpecific
Thank you for taking the time to read our article.

If you enjoyed our content, we'd really appreciate some "love" with a share or two.

And ... Don't forget to have fun!